About Our Company
Having the experience of more than 20 years, we, Nand Shyam Engineering Corporation are popular all over the world as an eminent manufacturer and exporter. Our gamut of industrial systems and equipment includes Heatless Air Dryer, Refrigerated Air Dryer, Rotary Screw Air Compressors, Compressed Air Micro Filter, Medical Vacuum Filter etc. These are preferred by clients owing to their unparalleled characteristics like high performance, energy efficiency, low power consumption and longer service life. All our products are completely flawless and we are 100% sure about this as all of them are checked by our quality testing panel before the delivery. The tests are done to check the features and functions of systems according to their use.

Our company has garnered a huge reputation all over the world for its high quality standards. The biggest credit of our success goes to our team members. They are the reason behind our efficiency as a manufacturer. Owing to their support, we have been able to fulfill all the promises made to customers, which is one of the reasons behind our popularity as a reliable company.

Why Us?

We always think of the benefits of customers and come up with the ideas which are profitable for them. Keeping in mind their budgetary restrictions, we have been offering all our items like Compressed Air Micro Filter, Refrigerated Air Dryer, etc. at market leading rates. Moreover, we assure them about the quick and safe delivery of the ordered consignments. Listed below are some of the factors that highly attract customers and convince them to choose us:
Wide distribution network
Ethical trading policies
Huge variety of offerings
Quality tested product range

Our Strength: Strong and Positive Leadership

Strong leadership is an important factor on which the functionality of business greatly depends. We have been successful at creating a thriving work environment for employees, which is supervised by supportive mentors. According to the philosophy of our mentors, each and every worker should be provided with the opportunity to speak and express his ideas about a particular situation or task. And we give this opportunity because of which, we regularly get several ideas and backup plans for dealing every situation. As the workers feel greatly comfortable under the guidance of leaders, they put in all their efforts happily in their respective jobs and provide us with the best results.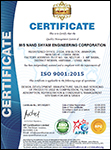 Read More