Compact Heatless Air Dryer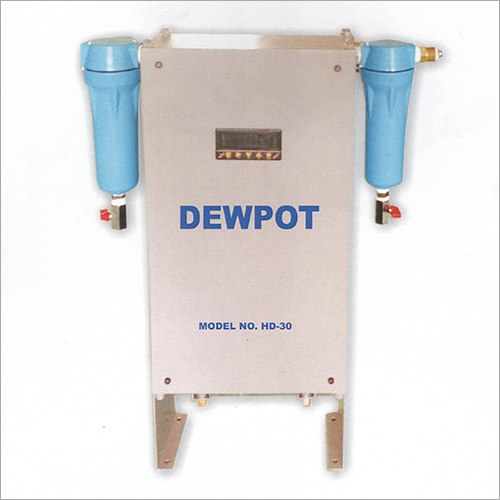 Compact Heatless Air Dryer
Price And Quantity
Piece/Pieces,

25000 onwards INR
Product Specifications
Different Size Available

Heatless Air Dryer
Product Description
How does NSEC compact desiccant dryer works.
Two Vessels connected in parallel are required for the continuous operation of drying via the adsorption process. Each vessel is filled with desiccants which acts as a drying medium. NSEC desiccant dryers use high performance molecular sieve which have long service life at high input temperature, resulting in very low dew point.
Stage 1. The drying compressed air takes place in vessel A and simultaneously adsorption (re-generation of the desiccant) occurs in vessel B the Desorption Processin vessel B occurs in a counter flow direction by using a small flow of dry air channeled from the outlet of vessel A. The mode of operation of pressure change desorption corresponding to almost is othermal description through partial pressure drop in the adsorbing component by means of purge gas.
Stage : 2 Upon completion of regeneration cycle, depressurization take place in vessel B until both the vessels equalizes in pressure. At this stage the vessel are ready to switch over
Stage : 3 The air vessel A will purge out and the drying cycle switches to vessel B, Vessel A will not undergo the desportion cycle to re generate the desiccants. The entire process will repeat itself to continuously dry the compressed air.
All NSEC dryers air installed with coalescing Pre filters and particle after filter to provide clean and dry compressed air.
Performance Data :

Base Model

Flow Rate

Pipe Size

Dimensions

Weight (Kg)

NM3/HR

SCFM

BSP

H

W

D

HD- 010

16

10

1/4

1000

300

150

25

HD- 020

33

20

3/8

950

400

225

37

HD- 030

50

30

1/2

1200

400

225

43

HD- 045

75

45

1/2

1000

500

350

54

HD- 065

100

65

3/4

1400

500

350

68

HD- 100

166

100

1

1800

550

400

110
Operation Conditions :
Maximum operating Pressure : 13 bar g
Air Inlet Temperature : 38 deg c
Operating Pressure : 7 bar g
Cycle time : 3 min
Pre Filter Rating : 0.01 micron
Power Supply : 230 V / 1 Ph / 50 Hz
Purge Air loss : 15 %
Inlet Pressure Correction Factor :

| | | | | | | | |
| --- | --- | --- | --- | --- | --- | --- | --- |
| Psl (g) | 60 | 80 | 100 | 120 | 140 | 160 | 180 |
| Bar (g) | 4.1 | 5.5 | 6.9 | 8.3 | 9.7 | 11 | 12.4 |
| Factor | 0.65 | 0.83 | 1 | 1.18 | 1.37 | 1.52 | 1.7 |
Temperature Correction Factor :

| | | | | | | | |
| --- | --- | --- | --- | --- | --- | --- | --- |
| OF | 90 | 95 | 100 | 105 | 110 | 115 | 120 |
| oC | 32 | 35 | 38 | 41 | 43 | 46 | 49 |
| Factor | 1.35 | 1.16 | 1 | 0.85 | 0.74 | 0.64 | 0.56 |
Contact Us
SHOP No. 2, DDA Market, B3B, Janakpuri, New Delhi, Delhi, 123501, India
Phone :+918045475451